Hire a Grotto Testimonials

"The winter wonderland scene we had for 2 weeks was fantastic and magical it looked amazing. "
Isla-Planet Hollywood London
"More than happy with everything - thank you very much they worked brilliantly! Will definitely keep you in mind for future work!."
Rosie Mullins-Hoyle ITV Coronation Street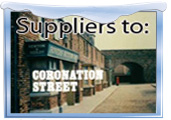 "A very big thank you for making the last few days a great shoot. You are all lovely and very professional to work with which helps enormously."
Lesley Dean Pangaea TV
"See you next year thanks for a great job."
Mrs Pater Britvic Soft Drinks
"Itís amazing THANK YOU!!!"
Nikki Ball, General Manager, Hungry Horse
"The grotto scene on Saturday was brilliant! Really brought our grotto to life.
Thank you for arranging and thank Graham for set up.
Merry Christmas and Happy New Year!"
Emma Taylor
Pimco Europe
"Everything went well with the grotto thank you and we were pleased with both the set up and the service."
Josh Simmons Specialist Cars BMW
"We also had a Christmas party in Southampton only yesterday and the feedback regarding Pineapple has been absolutely excellent,what you provided for us was above and beyond what was expected and much appreciated. "
Scott Giles
British American Tobaco
"Thank you for your help in making our christmas party a fabulous success,your props looked loveley in our santa grotto area."
Angela Small- Carl Zeiss Vision
"The grotto scene on Saturday was brilliant! Really brought our grotto to life. Thank you for arranging and thank Graham for set up. Merry Christmas and Happy New Year! "
Emma, Legal analyst
"Our event was successful on Saturday and children loved the Christmas grotto! Thanks"
Elisabet The Custard Factory, Birmingham.
"The grotto was brilliant. Everyone loved it."
Preston Under Wealdmoors School Telford
"I would like the opportunity to thank you for supporting the East Ham Christmas lights event on Saturday. The event was well attended throughout the day and visitors enjoyed all the attractions.
I also want to thank Dave for all his hard work and professionalism. He was friendly and cooperative as he set the equipment and in his role as Santa!
I hope to have the opportunity to work with you again. "
Yvonne London Borough Of Newham
"The Grotto was greatly received by both the children and event organisers and I know that there are people now interested in buying a grotto from you"
Sandwell Metropolitan Borough Council
"Hi Evie
We were very impressed with the grotto .It looked fab in the photos and the venue (Lingfield Racecourse) have taken your details(to consider for future events) as they were impressed also with the whole set up. Thank you"
Hazel The Mileage company
"Fantastic....Brilliant....The kids loved the grotto!"
St. Luke's Primary School, Telford
"The scene setter was a great success everyone loved it."
The Old Hall School Wellington
"The Grotto was brilliant and amazing and it run like a dream"
Unison, Hyde Cheshire.
"Just wanted to say a big thank you for the grotto at our event yesterday!
Dave was a great Santa and braved the cold all day!"
Chris, Princess Alice Hospice, Esher
"The grotto looked amazing what a day, see you next year and by the way, Merry Christmas"
BJ Leisure Wolverhampton
"A BIG THANKS from booking through to delivery and set up you guys were a joy to deal with."
Roger Shawfab Telford
"The grotto was a huge success, really easy to inflate, it was perfect for our event, it arrived as agreed so we were delighted with your service, we hope to arrange a similar event later this year, so I hope to be in contact with you during the course of 2014.
Many Thanks "
Frances, Cisco
"Brilliant what a great grotto."
J&B Promotions Glasgow
"The driver that delivered and set up the grotto both weeks I have to say is a credit to your company"
Sandwell Metropolitan Borough Council